Driving is one of the most common modes of transportation in the United States. Unfortunately, – we can't control other people's driving habits. When others drive carelessly, recklessly, or even while intoxicated, accidents and crashes are a risk that people take on whenever they get behind the wheel. However, the right car accident attorney provides the knowledge and confidence to protect your legal rights if you ever find yourself in a car accident. Find out what to do after a car accident below:
Car Accident Law Firm: What They Do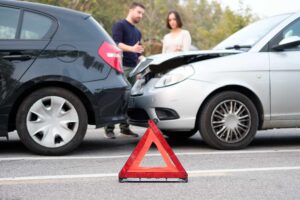 A car accident law firm handles the legal proceedings for clients following a car accident that resulted in injury or damages. Why is this important? These incidents are complicated and full of pitfalls for the unwary. They require specialized knowledge and involve confusing claims procedures and proper court-filings to meet appropriate legal standards and protect your rights. Plus, if you are involved in a car accident, you may not be in the right frame of mind to jump into action, ask the right questions, and protect yourself legally. Remove the stress of not knowing what to do after a car accident by finding a car accident attorney regardless of the severity of the incident. A car accident attorney will talk to the insurance company for you and protect your rights. Learn why you should contact a lawyer for a minor car accident. A car accident attorney can:
Communicate with Insurance Companies
Obtain Quality Evidence
Organize Legal Documents
Present Evidence Clearly
Negotiate Settlement
Represent Your Interests
Car Accident Law Firm Tips: Prevention
No one wants to be involved in a car crash. There are certain steps you can take to prevent accidents from occurring and others to be prepared if a crash does occur. For example, you can protect yourself on a legal front by preserving important evidence and documents and keeping your vehicle in a safe operating condition. Knowing the tips to prepare for a car accident before it happens are critical knowledge for any driver.
Have Up-to-Date Information and Insurance Coverage
Ensure all documents and information about your car are valid and up to date. Be aware of the expiration dates of your registration, license plate, driver's license, and insurance plan. It is illegal in Colorado and other states to drive with expired documentation. Having up-to-date information can legally help you following a car crash.
Maintaining as much insurance as you can afford can also help protect you in the event of a car or truck accident. While having high levels of bodily injury (BI) coverage will help protect your assets if you are at-fault, maintaining both Medical Payments coverage and Uninsured/Underinsured Motorist (UM/UIM) coverage will protect you if you are injured by someone else who does not have enough insurance.
Drive Defensively
Driving can be dangerous, but driving with a defensive mindset is a great way to reduce risks. You should understand common driving practices like who has the right of way, but also be prepared to respond to other drivers who may not follow the expected rules of the road. If another driver partakes in a dangerous or illegal practices, try to create distance lawfully and safely. Be aware and try to anticipate different dangerous situations that other drivers may create. These may seem unexpected, but with appropriate caution you can anticipate worst case scenarios like if another driver runs a red light or does not stop at a stop sign.
Abide by Traffic Laws
Following traffic laws is the best way to avoid accidents and should be your typical driving practice. If you are wondering what to do after a car accident that is not your fault, provide evidence to your lawyer that shows you followed the relevant traffic laws. Follow the rules of the road to be a more predictable driver and reduce the chances of an accident.
Prepare for the Conditions
Weather and road conditions can play a role in vehicular accidents if drivers aren't prepared or don't adjust. You should feel confident driving in snow or rain before embarking on your journey in these conditions. Take time to practice driving in these conditions to feel more comfortable and confident before large spans of driving – or reschedule your plans if the weather looks too risky.
Be aware of the road conditions and equip your car with snow tires, chains, or other safeguards in snowy months to ensure the safety of your vehicle and those driving around you. Make sure you adjust your driving to the road conditions. If the roads are snowy or icy, then slow down to a safe speed and increase your following distances. If the sun is in your eyes, pull over until it is safe to proceed.
Wear Your Seatbelt
One of the most important safety tools in your vehicle is your seatbelt. Not only is it a law to wear this safety device, but it drastically reduces the risk of injury if a collision does occur. Wearing a seatbelt will help you feel more confident while driving, is a crucial factor for your attorney to consider, and can save your life.
Car Accident Law Firm Tips: Response
If you are involved in a car accident and need a personal injury lawyer, follow the steps listed below and be sure to contact a car accident attorney as soon as you can. A car accident can be a life altering experience and it can be difficult to know what to do on the spot. See some tips for how to respond to a car accident below:
Call 911 and Emergency Services
After a car crash, call 911 as soon as possible. Once first responders are on their way, assess your health and the condition of anyone else involved to help determine the severity of the incident. Once the police arrive at the scene, they will write reports and document the event. You should also take pictures and make sure you have copies of the reports. Your car accident attorney will need all of these documents in order to best represent you and protect your legal interests.
Gather Information
Be sure to exchange information with the other party involved. You want to know details about their insurance, vehicle, license plate, driver's license, and location of the accident. This information will be crucial for filing an insurance claim and is important evidence for your car accident lawyer. Make sure you take down the information and contact information for any witnesses. Make a note of whether there are video cameras or businesses nearby that may have recorded the accident.
Document Evidence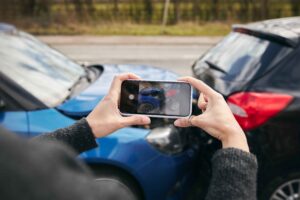 If you can, take pictures of the scene, the vehicles, and your injuries, to start compiling evidence. Capture the scene and any damages to yourself and the vehicle. Have photographic evidence of the license plate, insurance information, and other identifying information from the other party. Evidence may disappear from the scene or could be altered shortly after the accident, so be proactive in gathering evidence.
Do Not Admit Fault or Sign
Refrain from admitting any fault in the accident immediately after. Admitting fault could lead to you losing your right to compensation regardless of who is actually at-fault. Do not sign any documents right away that are presented by the other party or their insurance company and do not make any agreements until consulting a car accident lawyer.
File an Insurance Claim
Contact your insurance provider via a phone call or mobile app to begin the process of filing a claim. Your insurance company should help guide you through the next steps of your claim. The company can often also help arrange for the vehicle to be towed if it's totaled. Even the most seasoned drivers could be left in a haze after an accident, so your insurance company can help you through the steps. However, even your own insurance company may not always have your best interests in mind. Therefore, it is crucial to involve an experienced car accident attorney who represents you as soon as you can. Also remember, do not talk to the at-fault driver's insurance company without first consulting with a car accident lawyer.
Contact a Car Accident Law Firm
Contact a car accident lawyer as soon as possible. A lawyer will help you through the steps after a car crash and support you through any legal proceedings. You can feel more confident knowing your interests will be represented and you'll have someone to guide you toward justice.
Get Support from a Car Accident Law Firm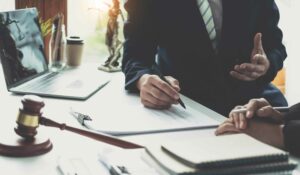 A car accident is an extremely jarring situation, that can turn your world upside down. From medical bills to not being able to work, you may quickly find yourself in a bad situation and it can be challenging to navigate the complicated legal process on your own. The lists above should help you know how to protect yourself before and after an accident. Learn why you need a lawyer after a car accident to feel confident following any vehicular accident.
Why CO Trial Lawyers is Right for You
If you've been in a car accident, CO Trial Lawyers can help. Get in contact with us today to learn how we can help you. Learn more about our Denver personal injury lawyers and understand our legal experience and dedication.